Vibramate V5-TEV-F Stage II "F" Logo Installs in Minutes with No Drilling!
Fits most Telecaster® guitars with vintage style "Ash-Tray" bridges.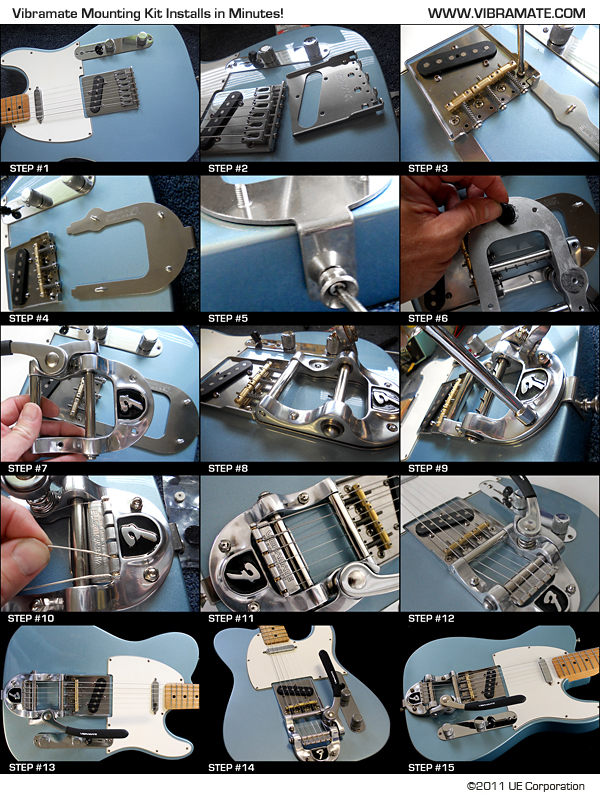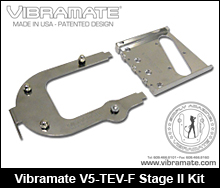 Now you can install a Bigsby Vibrato on your Telecaster® guitar without drilling any holes! The V5-TEV-F Stage II "F" Logo Model Mounting Kit is designed for a Bigsby "F-Logo" Vibrato and will fit most standard Telecaster® guitars that have a vintage style "Ash-Tray" bridge and 4-screw mount.
The V5-TEV-F Stage II "F" Logo kit includes mounting hardware for the Bigsby "F-Logo" Vibrato and utilizes your existing Telecaster® pickup and bridge saddles. There is no need for drilling, soldering or removing the neck.
The Vibramate V5-TEV Stage II automatically positions the Bigsby Vibrato, neck pickup, and bridge saddles in the proper orientation ensuring a clean, finished appearance with great performance.
Designed for the traditional Telecaster® player, the Vibramate V5-TEV mounting kit has the same basic look and feel as the original vintage style "ash-tray" bridge while providing for a clean and easy Bigsby Vibrato installation.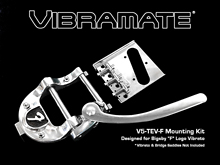 The V5-TEV-F Stage II "F" Logo mounting kit modular design allows you to mix-n-match Vibramate componants for a variety of alternative options from various tailpieces to Humbucker and Scalloped Bridge Plates.
The kit installs in minutes and eliminates the need for drilling holes in your instrument.
Designed to work with Vibramate Dual Access Bridge Saddles.
Be sure to follow the mounting instructions to prevent damage to your instrument.
Vibramate V5-TEV Stage II Modular Design Bridge Options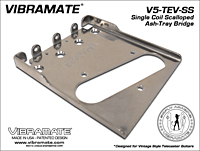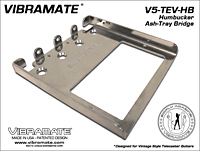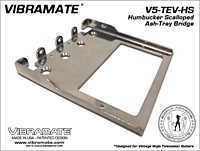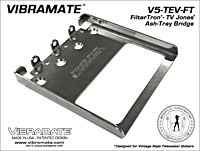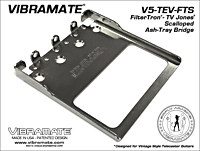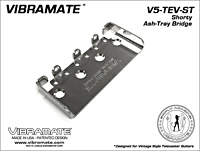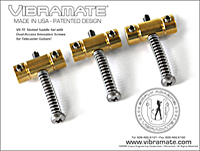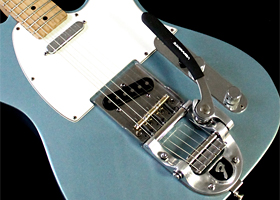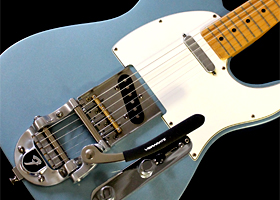 * ...also see Vibramate V5-TEAS for American Standard Telecaster Guitars

| | | | | |
| --- | --- | --- | --- | --- |
| Classic Vibramate! | Short Tail Vibramate! | Flying-V Vibramate! | Carved Top Vibramate! | Vintage Vibramate! |

[ FAQ's ] [ Guide ] [ Order ] [ Spoiler ] [ Tone ] [ Facebook ] [ Photos ] [ Videos ] [ Links ] [ Contact ]