VIBRAMATE® FAQ & INFORMATION PAGE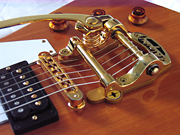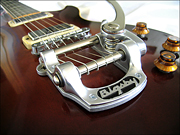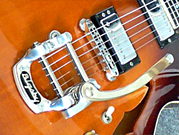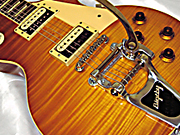 Where do I get a Vibramate?
You can order Vibramate from most Music Stores, Guitar Repair Shops and Guitar Parts Resellers. You can also Order Online Here.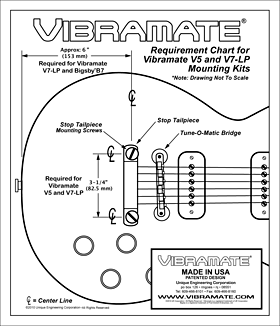 Will Vibramate fit my guitar?
Vibramate is designed to fit most guitars with a Stop Tailpiece and a Tune-A-Matic style bridge. This is a very common setup and has become an industry standard today.
Please review our Helpful Vibramate Guitar Model Adaptor Guide!
Do I need a professional to install a Vibramate?
No. The Vibramate kit is very easy to install and can be completed in matter of minutes with just a Phillips-Head screwdriver. Vibramate is designed to fit the existing inserts in your guitar without any special tools or layout. However, if you have any concerns you should contact your local guitar repair professional.
Does the Vibramate plate flex?
No. The Vibramate plate is made from heavy gauge Aircraft Grade aluminum and will not bend when secured to your guitar.
Will Vibramate work on my carved top or arch top guitar?
Yes. The Vibramate V5 kit was originally designed for flat top electric guitars but will also fit most carved and arch top models. The back of the unit may appear raised depending on the angle of the top. Our Vibramate V7 Kit is specifically manufactured for arch-top solid body guitars.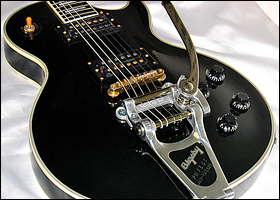 Will Vibramate fit a Les Paul® Classic or Custom?
Yes, it can fit both. Vibramate V7-LP is designed to mount a Bigsby® B7 Original model vibrato to a carved top Les Paul® guitar. Also, the Vibramate V5 kit will fit most Les Paul® carved top guitars. The back of the unit may appear slightly raised depending on the angle of the top but this will not effect the performance.
I have an SG with the large pickguard?
We designed the Vibramate V5 Short Tail model to accommodate guitars with tighter mounting locations such as the SG Classic.
I have an ES-335 style archtop guitar?
The Vibramate V5 kit will fit most 335 style arch top models. The back of the unit may appear slightly raised depending on the angle of the top. Additional product designs are in the works. Check out Richie Blackmore's ES-335 with Deep Purple as Hugh Hefner torques the Bigsby® B5 at Playboy After Dark!
Will Vibramate work with a Flying V?
Yes. We have 2 options for Flying V's. You can use the Vibramate V5 Short Tail for standard Flying V models. Some pickguard modification may still be required to clear the the front leading edge of the Bigsby® and Vibramate mount. The Bigsby® will hang off the back of the V but this is standard for this type of mount. We also have the Vibramate V7 Flying-V Kit for the Bigsby® B7 that includes the Wing Bracket for mounting the tail of the B7.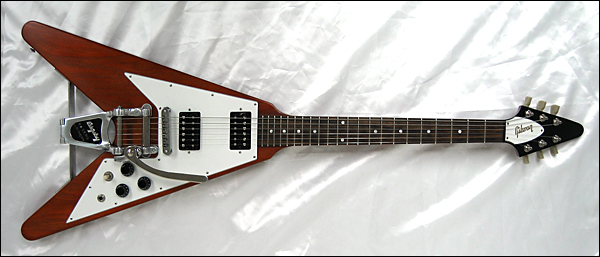 Will Vibramate fit a Fender® Jaguar HH Special?
Yes, the Standard Vibramate V5 Mounting Kit is designed to fit the Fender® Jaguar HH Series guitars that feature a Standard Tune-A-Matic and Stop Tailpiece bridge configuration.

Who puts a B5 on a Les Paul®?
One of our all time favorite players put a B5 on a Classic Les Paul® sometime before his untimely death in 1976 - if you haven't already, then you must check out the amazing Tommy Bolin!
Some current Players using Vibramate:
* Randy Bachman - Les Paul® with Vibramate V5
* GE Smith - Les Paul® with Vibramate V5
Will Vibramate work with a Bigsby® B50 or a B70?
NO. The Vibramate V5 is designed to work with the Bigsby® B5 Original model vibrato only. The Vibramate V7 is designed to work with the Bigsby® B7 Original model vibrato only. Other models may be available in the future.
What's the difference between the Short Tail and Original kit?
The Short Tail Mounting Kit is designed for guitars with tighter mounting situations such as the SG Classic that has a larger pickguard. In most cases the Original Vibramate would be used.
Should I get a Chrome or Nickel Bigsby?
There is plenty of confusion in the marketplace but the fact is that Bigsby vibratos are not Chrome or Nickel. They are actually just polished aluminum. The original manufacturing design from Paul Bigsby is sand-cast aluminum making plating unnessesary and impracticle. The Gold plating process requires additional steps to achieve a quality finish on the aluminum vibratos adding substantially to the manufacturing cost.
Why is the Vibramate not Chrome plated?
The Vibramate plates are machined from high-grade aluminum to best match the Bigsby vibratos and minmize additional unnessesary weight. New manufacturing process has helped us to achieve a higher quality polished finish closer to matching the Bigsby vibrato without adding to the cost. We continue to make improvements to hardware quality and finish to provide the best product possible on an ongoing basis.
Will the Bigsby® stay in tune?
The Bigsby® Vibrato has it's own idiosyncrasies just like other vibrato systems will require a proper setup and use of some of the adjustments and tweaks for the vibrato to work at optimum performance. We have been working with Bigsby® to come up with a new "Setup Guide" that will hopefully answer most of your questions.
What about the string angle?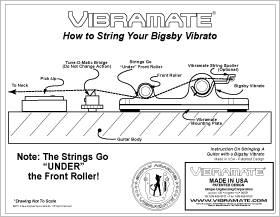 Vibramate is designed to locate the Bigsby® vibrato in a proper orientation for most guitars. The string break over the Tune-A-Matic is usually excellent and less restrictive due to the raised position of the Bigsby vibrato.
Will Vibramate change the action or string height on my guitar?
No. The Vibramate mounting plate raises the height of the Bigsby® vibrato but due to the front roller it does not change the action or string height on your guitar. In fact, you should not have to make any changes to your setup if you do not remove the Tune-A-Matic bridge during installation. Remember, the strings go under the front roller(tension bar) on the Bigsby vibrato.
Will Vibramate effect the sustain or tone?
The Vibramate's Patented design also functions as a tone-enhancer similar to an open ended tuning fork. The Vibramate provides increased sustain over traditional mounts as it is secured deeper into the guitar body through the factory tailpiece inserts with large diameter mounting screws. Performance feedback from professional musicians has been very positive after the installation. Vibramate is a heavy gauge aluminum plate designed to mate with the aluminum cast Bigsby® vibrato. Vibramate is secured to the existing tailpiece inserts in the gutar body creating a very cohesive mount.
What about special finishes?
Nitrocellulose and other special lacquers or custom finishes can be very soft and are easily susceptible to marking or damage to the finish. Although Vibramate comes with felt padding designed to protect most finishes there is always a possibility that damage may occur to soft or sensitive finishes. Please consult a qualified guitar luthier or finish expert for advise if this is a concern.
Will Vibramate fit an old Gibson® Bigsby® vibrato?
Vibramate is designed for the Bigsby® Original B5 only and was not intended to fit older proprietary or licensed vibratos.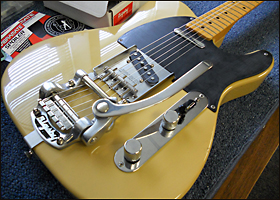 Do you have a Vibramate for a Telecaster®?
Yes, the Vibramate V5-TEV Mounting Kit is specifically designed for Telecaster® guitars that have a vintage style "ash-tray" bridge with 3 bridge saddles and 4 mounting screws. It is a self contained unit that replaces the existing bridge and designed to fit the Bigsby® Original B5 Vibratos.
What about the American Standard Telecaster®?
Check out our Vibramate V5-TEAS Mounting Kit that is designed specifically for the Americamn Standard Telecaster guitars with a 3-screw mount. The different position of bridge hardware and mounting on the American Standard models make the the Vintage Telecaster kits not interchangeable.
How about a Left Handed model?
Vibramate V5 is now available in Left Handed models for both silver and gold.
Is Vibramate available in Gold?
Yes, a Gold Plated Vibramate Kit with Brass plated mounting hardware is available in the same high quality aluminum.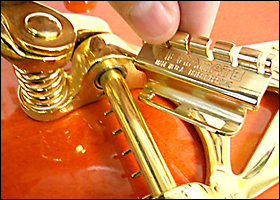 What is the Vibramate String Spoiler?
The Vibramate String Spoiler is an ingenious little bracket designed to fit right onto your existing Bigsby vibrato without any modifications or special tools. It easily slips right into place and is held in position by the tension of the strings when tuned to pitch. The Spoiler makes string changes so easy you'll wonder how you ever lived without it. Now your strings will drop right into place in seconds with the Vibramate String Spoiler! The Vibramate String Spoiler is designed to maintain the same smooth operation and feel of the classic Bigsby vibrato and may even increase the potential range of pitch bending. The Spoiler has a polished finish and subtle appearance designed to look like it was original equipment on your guitar and vibrato. Manufactured in the USA from high-grade Stainless Steel, the Vibramate String Spoilers are available in 3 finishes; Silver, Gold and Black. Universal fit makes the Spoiler interchangeable with all of the Bigsby vibrato models.
What is the Vibramate Super-Grip?
The Vibramate Super-Grip is custom made to fit the arm of your Bigsby vibrato. The textured design adds contour to the overall grip and a soft comfortable feel for subtle vibrato techniques. The Vibramate Super Grip easily slides onto your existing Bigsby vibrato arm without any modifications or special tools. The tapered design ensures a snug fit once installed but can be removed just as easily by sliding it back off.
I lost some of the mounting screws?
You may contact us for replacement hardware - please use our online contact form or send us a letter via standard mail. Be sure to include your contact information and return address.
The Vibramate plate does not sit flat.
Be sure that the inserts into the body of your guitar are properly secured. If they are not then the Vibramate and Bigsby vibrato can shift and may not sit flat. In this case, we recommend using a good wood glue to secure the inserts and allowing 24 hours to dry before re-installing the kit. Also some import guitars today have raised collars that may cause the Vibramate plate to not sit flat. Vibramate manufactures a replacement set of inserts that are available as an alternative and Vibramate mounting kits include a set of Insert Spacers that are designed to be used with recessed inserts to eliminate overtigtening the mounting plate and any additional unnecessary pressure. Check the dimensions of your guitar before ordering to ensure a proper fit.

Vibramate reviewed in The Tonequest Report.
Guitarist extraordinaire, G.E. Smith, tipped The Tonequest Report to the elegantly simple and inexpensive Vibramate!
Vibramate receives Guitarist Gold Award!
Guitarist Rating: 5 Stars! This is an innovation of true genius! We must concede to some trepidation before fitting the unit, but it's no exaggeration to say that it took us less than 10 minutes to set the Bigsby B500 in place and string the guitar back up. Read more...
Vibramate Install Photos!
Here are photos of installations by various customers.
Thanks for your support!
Your input and feedback is very valuable to us. Please feel free to send us any ideas, installation issues, photos of your guitar with a Vibramate kit or additional guitar models to add to our expanding install list.
This website and FAQ are a work in process. Thank you for your support!