Now you can install strings on your Bigsby® Vibrato
in seconds with the Amazing Vibramate String Spoiler!
Installs in minutes without any tools or modifications.
Universal design is interchangeable with all Bigsby Vibrato models.
Made in the USA from Polished Stainless Steel!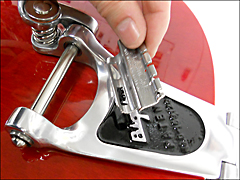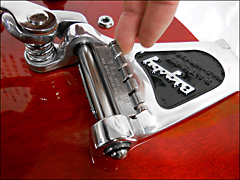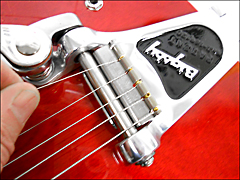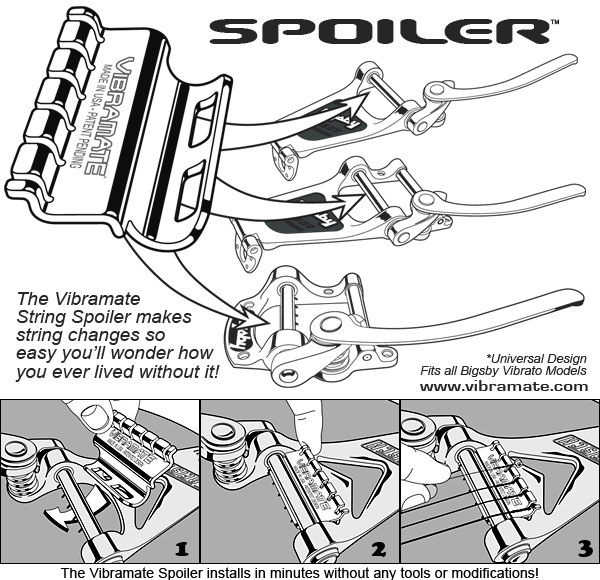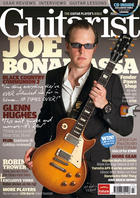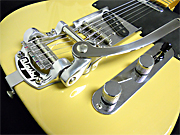 The Vibramate String Spoiler is an ingenious little bracket designed to fit right onto your existing Bigsby Vibrato without any modifications or special tools. It easily slips right into place and is held in position by the tension of the strings when tuned to pitch.
The Spoiler makes string changes so easy you'll wonder how you ever lived without it. No more need for wrapping the strings around and under the vibrato roller with needle-nose pliers in an attempt to get the ball onto that little pin. Now your strings will drop right into place in seconds with the Vibramate String Spoiler!
The Vibramate String Spoiler is designed to maintain the same smooth operation and feel of the classic Bigsby vibrato and may even increase the potential range of pitch bending. The fulcrum position eliminates unwanted radial strain to the ball end string wrap.
Guitarist Magazine Product Review - Restring your Bigsby in minutes! No, we're not joking...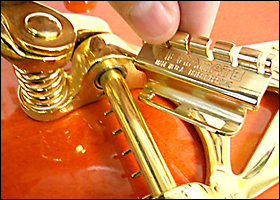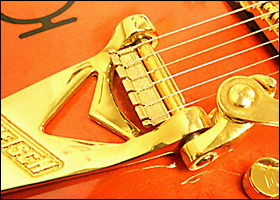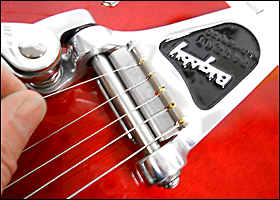 The Spoiler has a polished finish and subtle appearance designed to look like it was original equipment on your guitar and vibrato.
Manufactured in the USA from high-grade Stainless Steel, the Vibramate String Spoilers are available in 3 finishes; Silver, Gold and Black.
Universal fit makes the Spoiler interchangeable with all of the Bigsby Vibrato models.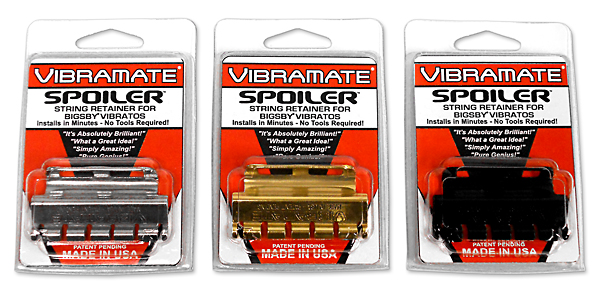 Be sure to follow the mounting instructions to prevent damage to your instrument.
* Spoiler Installation Instructions

ORDER THE VIBRAMATE STRING SPOILER NOW!
| | | | | |
| --- | --- | --- | --- | --- |
| Classic Vibramate! | Short Tail Vibramate! | Flying-V Vibramate! | Carved Top Vibramate! | Vintage Vibramate! |

[ FAQ's ] [ Guide ] [ Order ] [ Spoiler ] [ Tone ] [ Facebook ] [ Photos ] [ Videos ] [ Links ] [ Contact ]