VIBRAMATE - GUITARIST - SPOILER REVIEW!

Vibramate SR1 String Spoiler
Restring your Bigsby in minutes! No, we're not joking...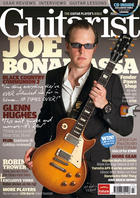 Bigsby vibratos can be a real pain in the backside to restring. There's a true knack to putting just the right angle of kink into a string's ball end to enable it to be teased onto the relevant pin poking unobtrusively from the central roller. Even with years of practice, the process of restringing any Bigsby guitar can take a frustrating 15 minutes- or even more if you're particularly sausage-fingered- and that's assuming that the ball end doesn't then inadvertently ping out of the array just as you're getting it up to the correct pitch... But fret no more, for help is at hand in the shape of the latest innovation from Vibramate: the String Spoiler. This clever bracket hooks over the aforementioned pins and is held in position by the string tension when turned up to pitch. Once you have the first string that secures the Spoiler in place, the remainder can be fitted and turned in seconds.
In Use
We used the Spoiler with both a standard B7 and a stripped-down B5 Bigsby and found that, not only was it a doddle to fit and use, it actually seemed to assist in smoothing the operation of the vibratos.
Verdict
Available in gold and black (both $59.95) as well as this stainless steel example, we can't stress enough how useful a gadget this is and, if you own any Bigsby-loaded electric, we can wholeheartedly recommend it. We're sure we can hear Brian Setzer's guitar tech somewhere, whooping with joy...[SB]
The Bottom Line
We liked: Ease of fitting and use; price
We disliked: Nothing

Reprinted by permission: Guitarist Magazine!
ORDER THE VIBRAMATE STRING SPOILER NOW!
| | | | | |
| --- | --- | --- | --- | --- |
| Classic Vibramate! | Short Tail Vibramate! | Flying-V Vibramate! | Carved Top Vibramate! | Vintage Vibramate! |

[ FAQ's ] [ Guide ] [ Order ] [ Spoiler ] [ Tone ] [ Facebook ] [ Photos ] [ Videos ] [ Links ] [ Contact ]