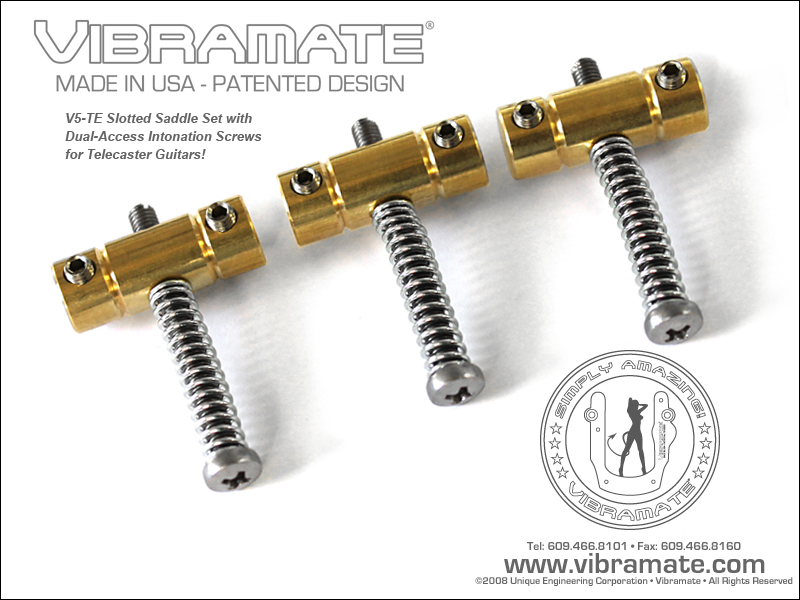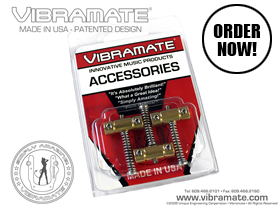 Vibramate Dual Access Brass Saddles!
Vibramate V5-TE Slotted Bridge Saddle Set for Telecaster Guitars are designed to work with the Vibramate V5-TE Series Mounting kits and Bigsby vibratos. Each set is custom-slotted utilizing the traditional 3-saddle "ash-tray" configuration and are designed to properly align the strings with the guitar neck of a Telecaster Guitar. The vintage style saddles are made in the USA and feature all Stainless Steel mounting screws and compression springs.
Vibramate V5-TE Saddle Set includes Vibramate custom made intonation screws designed to provide easy access to adjust the intonation on Telecaster guitars that have a Bigsby vibrato installed. The Dual Access screws are adjustable from both ends. Traditional adjustment on the back of the screw using standard Phillips-Head and also now adjustable from the front side using a small Slotted or Blade type technicians screw driver.
Made in the USA and available in either Solid Brass or Stainless Steel.
Set comes complete with 3 Saddles, Adjustment Set Screws and Compression Springs
Photos of the Vibramate Dual Access Brass Saddles: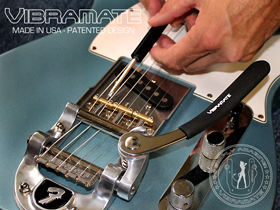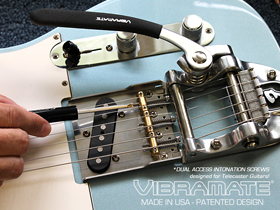 * ORDER VIBRAMATE DUAL ACCESS BRASS SADDLES NOW!

* Also Check Out Vibramate Spoiler!

| | | | | |
| --- | --- | --- | --- | --- |
| Classic Vibramate! | Short Tail Vibramate! | Flying-V Vibramate! | Carved Top Vibramate! | Vintage Vibramate! |

[ FAQ's ] [ Guide ] [ Order ] [ Spoiler ] [ Tone ] [ Facebook ] [ Photos ] [ Videos ] [ Links ] [ Contact ]